In the past year, George Mason University has truly stepped up its drive to achieve the goal of becoming a model well-being university. Offices and departments like the Center for the Advancement of Well-Being have boosted the number of fun and creative well-being activities available on campus, and students, faculty, and staff are embracing the value of a healthy lifestyle, whether at home, at work, or in class.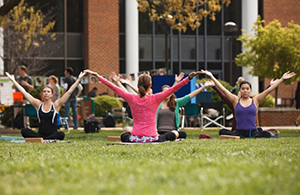 In HEAL 110, Professor Luanne Norden extends Mason's drive for well-being to her online students.
Photo courtesy of Mason Creative Services.
When it comes to supporting the university's mission of well-being, Professor Luanne Norden of the School of Recreation, Health, and Tourism is an active advocate. In her online section of HEAL 110: Personal Health, Professor Norden strives to get her students interested in their own health, motivating them to improve their overall well-being and empowering them to thrive in all aspects of their daily lives.
"This personal health course is really all about recognizing specific aspects of personal health and identifying ways to improve it," she explains. "I'm leading my students to more information and resources to put them in charge of their own health, and that's my ultimate goal."
Engaging Students through Personal Interests
So how does Professor Norden capture her students' interest in studying personal health? Easy – the content is directly relevant to them. One of the projects in the course, and a student favorite, is a personal change plan. Students set a health goal to work on throughout the semester, ranging from exercising three times a week to drinking more water, eating more fruits and vegetables, and getting more sleep. There is also an optional health assessment, which provides students with private information to help set effective goals.
At the midpoint and end of the semester, students report on their goals and methods for achieving them. "Students really like this project! They like the fact that they have to set a goal to improve their own health, and all along the way they're gaining more knowledge," says Norden. "Ultimately, they like that the course is directly relevant to their own personal interests."
Providing a Comprehensive Look at Well-Being
Another great aspect of the course is that it offers a comprehensive look at well-being. Topics cover mental and emotional health, fitness, nutrition, environmental health, and much more. For the chapter on mental and emotional wellbeing, the content is tied to something that all college students find useful at one point or another – stress management. As a fun assignment, Professor Norden has students test out different stress management strategies and report on them, discussing tools that Mason currently offers and potential opportunities for the future.
What's more, Professor Norden illuminates the value of a lifelong commitment to well-being, and she often finds that many students extend their efforts and goals past the barrier of a given academic semester. "Really this course is about presenting the concepts required just to live an active life," she says. "One of the discussion boards focuses on lifetime activities, so I introduce them to all different types of options, like badminton, curling, even pickleball. Since some of these activities are new to them, they're always interested to discuss them and learn more."
Creating an Accessible Learning Environment
To support the students' personal interest in the course content, Professor Norden ensures that the Blackboard course is easy to access and navigate. She breaks the semester content into weekly schedules or modules, with a quiz or assignment due for each. For the module on nutrition knowledge, students keep track of what they eat for a few days and assess the nutritional value of their typical meals.
She suggests, "My goal is to make it easy for the students to learn the content. After all, the content is what we want them to walk away with! My students often comment that they really like the structure of the course, as it's easy to stay on track and everything makes sense."
To achieve this, Professor Norden makes constant efforts to update and improve the course, adding or modifying sections, providing more information, and incorporating student feedback. At the midpoint of each semester, she distributes an optional survey to gain students' perspective of how the course is going. She notes, "I tweak the course all the time, which keeps it interesting for me, too. I'll even get a new idea from a conference or professional development session and say, 'That's a neat method, I want to do that instead!'"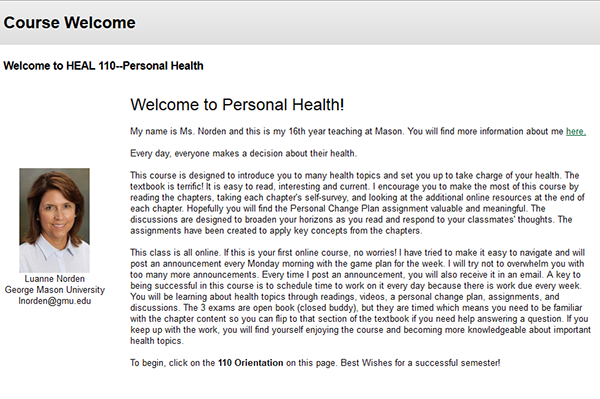 At the start of each semester, Professor Norden provides a welcome statement to outline course expectations and foster a sense of community from Day 1. Screenshot courtesy of Professor Luanne Norden.
Fostering a Well-Being Community Online
If students aren't sure whether online courses are right for them, HEAL 110 is a great place to start. Students who work full-time or have other commitments can complete work during the evenings or on the weekends, and healthy activities can be easily integrated into any aspect of their daily routine. Plus, this course brings together students from all levels – freshmen to seniors – which cannot be accomplished in many courses yet allows for active and robust discussions.
Professor Norden happily shares, "Students say they actually like doing work in this course! In addition to the content being relevant and vital to everyday life, the online environment has received a lot of favorable feedback. Many students have commented that [HEAL 110] was their first online course and was a great experience. It is the perfect course for students to try online."
---
Professor Norden was also the recipient of a 2013 Distance Education Award! Part of the annual Human Resources Outstanding Achievement Awards ceremony, this award is given to a faculty and staff member whose efforts support quality online course offerings at Mason. Read more in Norden Receives DE Faculty Award.