Math can be a challenging subject in any format. But Prof. Joanna Boyette of Mason's College of Science has discovered a few teaching strategies that allow her students to flourish – even online. "Once you go online, you rethink how you do everything else, in a good way," she explains. "I'm redefining my own role in the classroom, asking questions as opposed to just answering them and putting together materials for students to do well and succeed."
Prior to piloting her first online section of MATH 108 Business Statistics, Prof. Boyette even flipped her face-to-face course and entrusted that community of students to help her hone in on areas of improvement. Since then, Prof. Boyette has made continuous improvements to both her online and face-to-face courses, though two of her key strategies remain the same – setting clear expectations and encouraging meaningful interaction.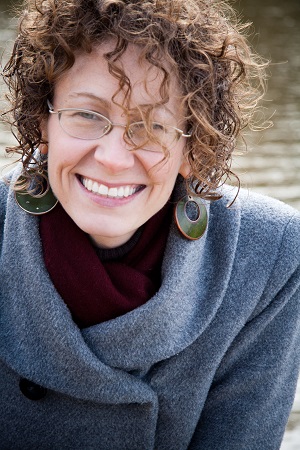 Photo courtesy of Joanna Boyette.
Clear Expectations
Online students not only access course materials at varying times, but they often underestimate the amount of work involved in online courses. To achieve an active and successful learning community, setting expectations in online or even flipped courses is important as the professor and students must be engaged and committed to making that mode work together.
"Conversing across technology is a bulky process, and math is such a written and verbal language. It's important to create a safe space to ask questions," suggests Prof. Boyette. "I also offer YouTube lectures and orientation videos to help students adjust to the online environment. You start to expect more from students, and then you can get to the heart of the material – the good stuff."
While initially skeptical of the numerous assignments and high expectations of MATH 108, Jishnu Neupane found the online experience to be rewarding overall. "We had to do Piazza homework that linked to XYZ homework, which linked to the discussion board problem solving, and it was all tied up with a writing assignment," explains Neupane. "I loved every part of the course. It challenged me to the max, and I found each part essential to hammering out the concepts."
Meaningful Interaction
To help her students achieve this satisfaction and success within a challenging and demanding math course, Prof. Boyette emphasizes the importance of constructive interaction to develop class management and communication skills and create a personalized, productive dynamic.
"[The course] allowed us to interact with one another in the class through Piazza, which helped build an understanding of the concepts," notes Usman Tahir. Rangin Hassan agrees, "My favorite part was probably the discussion board entries we had with the different students and helping each other out. It made it feel like it was a real class rather than just sitting on a computer."
While group work creates an essential sense of community in a virtual environment, it also ensures consistent productivity and a chance for the professor to observe as well as engage. "These [online and flipped] modes are self-sufficient. If I miss a class, students don't feel my absence or like anything was missing, because they are confident within their groups," says Prof. Boyette. "I get to look at what students are doing and get a peek in how their brains are working, watching that feedback between students."
Opportunities for All
As an option to fulfill the Mason Core requirement for Quantitative Reasoning, MATH 108 is a course that every Mason undergraduate can take. While Hassan saw the online course as an opportunity to avoid early morning commutes, Tahir enrolled in order to stay on track with prerequisite requirements after switching majors. In addition to scheduling and commute benefits, online courses also allow Mason to reach a growing population of non-traditional students.
"I really like teaching online. I get to help improve students' technical proficiency and participate in a lot of dynamic communities," shares Prof. Boyette. "Thinking about student populations that truly benefit from online learning, helping people reach those opportunities, and reaching a new demographic of students – I really enjoy that, and supporting these students is an important role for Mason to play."
Prof. Boyette is committed to ensuring her students' success, and her passion for reaching and supporting new student populations through the online medium is inspiring. In the words of one of her students, "The most interesting aspect of the class was Professor Boyette herself."