Student Ambassadors Are Here to Help
Student ambassadors at George Mason University have navigated online learning while they worked and kept up with their daily responsibilities — just like you. They're here to provide new students with valuable insights that lead to success and an insider's view of what to expect while earning your degree.
You can discover more about the online learning experience in our Student Ambassador Program, where successful students and alumni share their knowledge. Get to know our student ambassadors below and sign up for their webinars.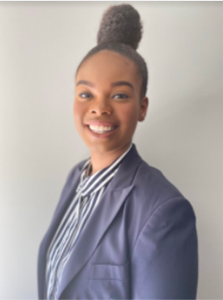 Ayanna Baker, '21
Master of Professional Studies in Applied Industrial and Organizational Psychology
About Me
Ayanna Baker was working as an HR recruiter when she decided to go back to school. "I wanted to move into a consulting and training role, and a graduate degree is usually required," she said. As an alum of Mason, she was familiar with the quality of the school and the faculty. This time, however, she was attending as an online student.
She was surprised by the deep connections and personal interaction the online program provided. "There were just lots of opportunities to be interactive with the team and stay connected," she said. Ayanna was able to participate in, and make connections through, the MPS I-O Student Advisory Board, group projects, and faculty office hours.
Ayanna's top-two tips include going to office hours to not only better understand the material, but to build connections with the Mason faculty, who are experts in their fields. She also recommends that you update your resume after every class as you learn new tools and skills.
She offers this advice from her own experience — Ayanna is now the cyber human capital program analyst and senior HR consultant at Booz Allen Hamilton, a position she secured during the program. Shortly after taking the role, she took the WorkPlace Training course and was able to apply what she was learning in class immediately. At Booz Allen, she designs, implements, and manages several programs to cultivate cybersecurity talent within the Department of Defense (DoD) using the skills and tools she learned at Mason.
Sign Up For Our Next Student-Ambassador Webinar
Listen in as our student ambassadors share their stories, thoughts, and insights and answer your questions about online learning. Register to be included in an upcoming webinar and come with questions you know only a peer can really answer.
Upcoming Student-Ambassador Webinars
Coming Soon