Meet the Digital Learning Team
Our team is here to serve anyone interested in online courses and programs at Mason, including current and prospective students, faculty, staff, and administrators. Whether you are a student looking to enroll online or a faculty member interested in developing online versions of your courses or programs, we are happy to assist you.
---
Charlie Kreitzer
Executive Director for Online Operations
Through focused planning and collaboration, Charles is committed to creating focused, high-quality, academic programs that are designed to respond to the changing educational and workforce needs of the region. With a background in product management and online operations, Charles provides cross-functional leadership to the Stearns Center and online initiatives at George Mason University.
Fun facts: Charles has traveled a lot and loves to cook foods from all over the world—and if it's not spicy, he doesn't bother! He'd choose flight over invisibility, and if he were a tree he would be an oak so he could have all of the acorns he wanted (also squirrels are cool, even if they are rats with good fashion sense).
---
Faisal Mahmud, PhD
Director for Digital Learning
As the Director for Digital Learning, Faisal oversees faculty and program support related to the development of Mason's online programs, co-leads Stearns Center, and holds a leadership role in initiatives pertaining to the coordination, planning, administration, assessment, and improvement of programs offered through Mason Online.  He is also responsible for managing the overall portfolio of online programs.
Coming from engineering, technology, research, and project management background, Faisal is an immense supporter and promoter of innovative, data-driven, and evidence-based teaching and learning.  He holds a PhD in Engineering Management and Systems Engineering, a Master of Engineering in Modeling and Simulation, and a Master of Science in Civil Engineering, from Old Dominion University.  Previously, he worked at ODU Distance Learning, Experiential Learning and Testing Center, and Virginia Modeling, Analysis and Simulation Center (VMASC), a few to mention.  He actively publishes and presents research papers in scholarly journals and international conferences.  Faisal also taught graduate and undergraduate courses in f2f, hybrid, and online mode.
Faisal is an avid traveler, entrepreneur, and digital content creator.  He enjoys photography and creative work in his spare time.
---
Darlene Smucny, PhD
Assistant Director for Digital Learning
Darlene oversees the online course peer review process at Mason and assists departments with customized course and program reviews.
Her focus is quality in online courses and programs, with an emphasis on faculty development, services, and support. Offering an experienced instructor's perspective of online teaching and learning, Darlene can share guidance, tips, and resources for getting started and actionable feedback for course improvement.
Darlene received her PhD in Anthropology from UCLA. Prior to Mason, she worked at University of Maryland University College, where she designed and taught fully online courses and managed online faculty in the social sciences undergraduate program.
Key Strengths: Learner, Ideation, Intellection, Input, Individualization
---
Larisa Olesova, PhD

Senior Instructional Designer
With over 20 years of teaching experience in the U.S. and Russia, Larisa has expertise in the traditional classroom and online. Her professional and research interests focus on distance education, working with faculty on aspects such as online presence, the Community of Inquiry (CoI), instructional strategies, and best practices in online teaching.
Her published works include Feedback in Online Course for Non-Native English-Speaking Students, chapters in Creating Teacher Immediacy in Online Learning Environments and Assessment in Online and Blended Learning Environments, and articles in various online education journals. Larisa received her PhD in Learning Design and Technology from Purdue University.
Key Strengths: Strategic, Maximizer, Ideation, Significance, Focus
---
Katrina Johnson, MEd, MA
Instructional Designer
Katrina has more than 20 years of experience in the eLearning industry including design and development, videoconference network management, and corporate training video production. Her specialties include: instructional design and development, faculty professional development, adult learning theory, interactive multimedia, animation, simulations, online learning technologies, IT training and consultation, active learning, instructor presence, game design, web design and accessibility, 3D printing, learning management systems, web conferencing, video production, and project management.
She holds a MEd in Instructional Design and Technology, MA in Telecommunications with a concentration in Educational Technology, and an e-Learning Graduate Certificate all from George Mason University.
Katrina is a visual storyteller who is passionate about creatively engaging students in the online environment. Her research interests include visual storytelling, asynchronous and synchronous online learning technologies, and diversity and inclusion.
Key Strengths: Positivity, Activator, Connectedness, Learner, Arranger
---
Ying-Ying Kuo, EdD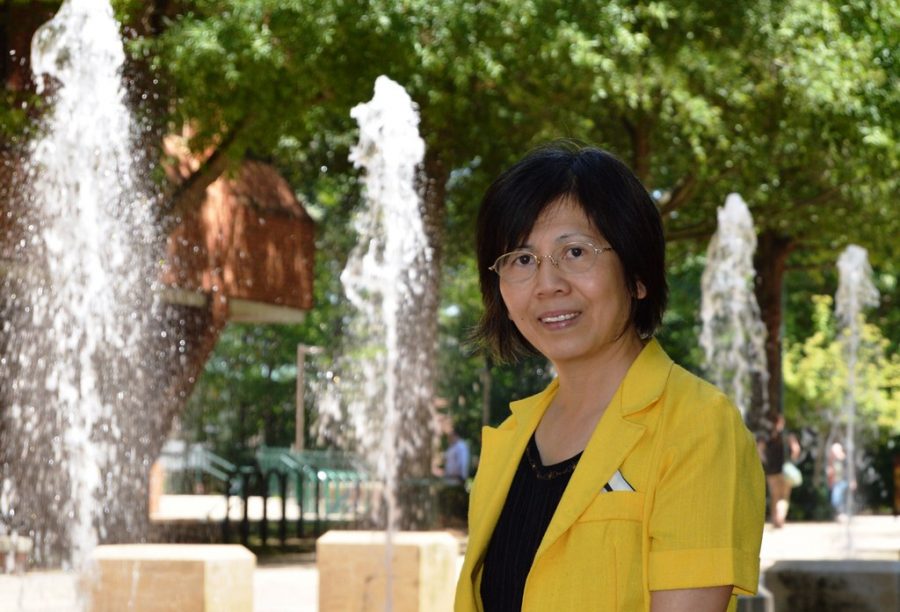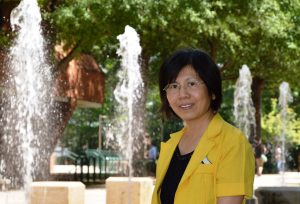 Instructional Designer and Learning Analyst
In her role, Ying-Ying often highlights the importance of integrating technology to support pedagogy and learning outcomes in design. Her designs promise efficient and effective online teaching and learning as well as course management. Her biggest reward comes from instructors and students who become proficient in teaching and learning in the digital world.
Ying-Ying received her EdD in Technology Education from West Virginia University. She is interested in complex educational topics using data derived from surveys, Blackboard, and instructional documents. She has devoted herself to educational research that will assist educators and ensure quality in online courses and programs.
Key Strengths: Learner, Achiever, Relator, Strategic, Responsibility
---
Ala Showers
Senior Instructional Designer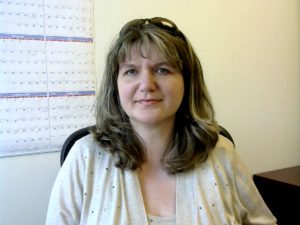 Ala started her career as an ESL faculty and, after a short segue to the corporate world, fell in love with instructional design while working at Mason. Her 15+ year career in higher education equipped her with skills in project management, web and media design, e-learning development, and a variety of tools and software that help online courses become alive, effective and engaging.
Her instructional design practice is driven by passion and best practices in online learning grounded in research. Ala holds a MEd in Instructional Design and Technology and an e-learning graduate certificate from Mason.  Prior to her position at Mason, she was a member of NOVA's instructional design team, supporting over 23,000 students in 550 unique courses.  Ala is a Quality Matters (QM) certified peer reviewer of online courses.  Her research interests include media design, technology for second language acquisition, brain-based learning and student engagement in online environments.
Key Strengths: Learner, Achiever, Activator, Relator
---
Monisha Tripathy
Instructional Designer
Monisha brings over fifteen years of work experience in instructional design, training, and quality assurance, with application in both higher education and corporate settings. In her role, she provides design support to Mason faculty members who are teaching classes online. She also assists with curriculum planning, provides ongoing support to ensure learner-centric instruction, and engages in the online course review process, working with faculty members on continuous course improvement efforts.
Monisha received her MEd in Instructional Design and Technology from Mason. Her specialties and professional interests include curriculum development, adult learning theory, online class development, online instruction, and quality assurance.
Key Strengths: Communication, Arranger, Relator, Positivity, Harmony
---
Laura J. Todd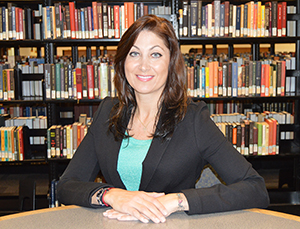 Instructional Designer
Formerly a high school teacher in Fairfax County Public Schools, Laura currently supports GMU faculty with pedagogy and course redesign for fully asynchronous online instruction. Laura earned her BA in Spanish from James Madison University, and her MA in Education (Curriculum & Instruction) from the University of Phoenix Online, and a Graduate Certificate in e-Learning from GMU. She is currently working on completing an Undergraduate Certificate in Information Technology.
Key Strengths: Organization, Connectedness, Problem-solving,  Adaptability
---
Jade Geary, EdD
Instructional Designer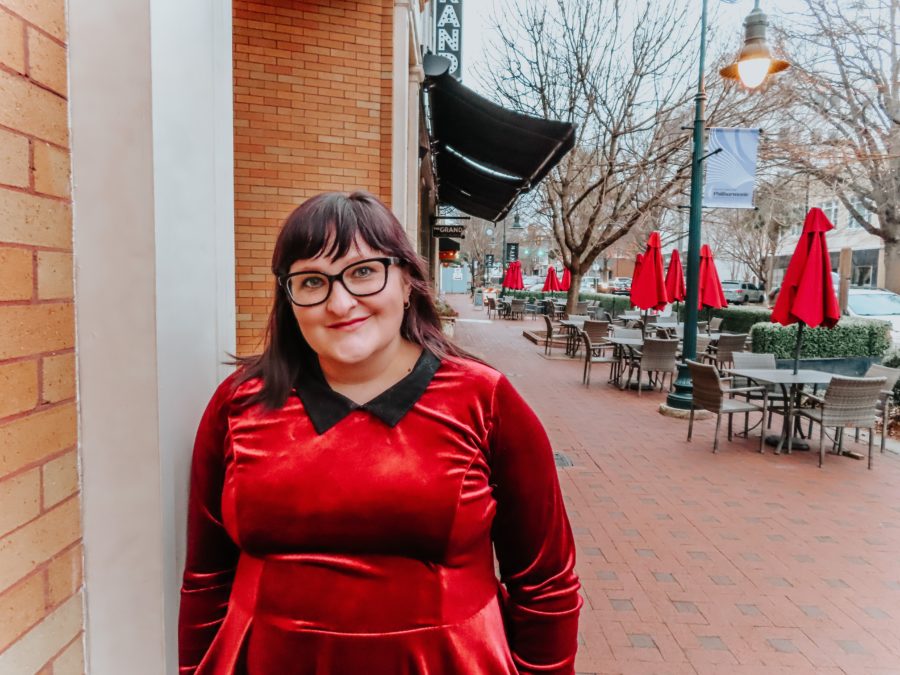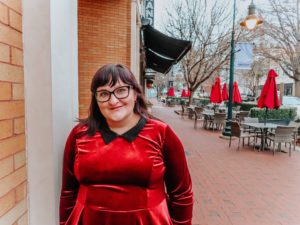 Jade started her career in higher education as a librarian. She quickly learned how much she had to learn about pedagogy and instructional practices to aid in teaching students in instruction sessions and credit-bearing courses. This lead to her pursuing her Doctorate of Education at the University of South Carolina while working as an Instructional Design Librarian. Jade has a passion for making sure that information is available to all. This includes ensuring that students are provided with the best possible learning situations via instructional design principles.
Jade obtained her EdD in Curriculum and Instruction with an Ed Tech focus from the University of South Carolina. Her focus includes critical pedagogy, educational technology, adult learning theory, online learning, OER, and information literacy. She also received a Master's in Library and Information Science from the University of South Carolina, a Bachelors of Arts in English, and a Bachelors of Arts in Women and Gender Studies from the College of Charleston.
In her free time, Jade loves to travel with her husband, dive into a good book, and walk their two Great Pyrenees dogs.
Key Strengths: Input, Positivity, Includer, Futuristic, Adaptability
---
Charlotte Petsche 
Operations Manager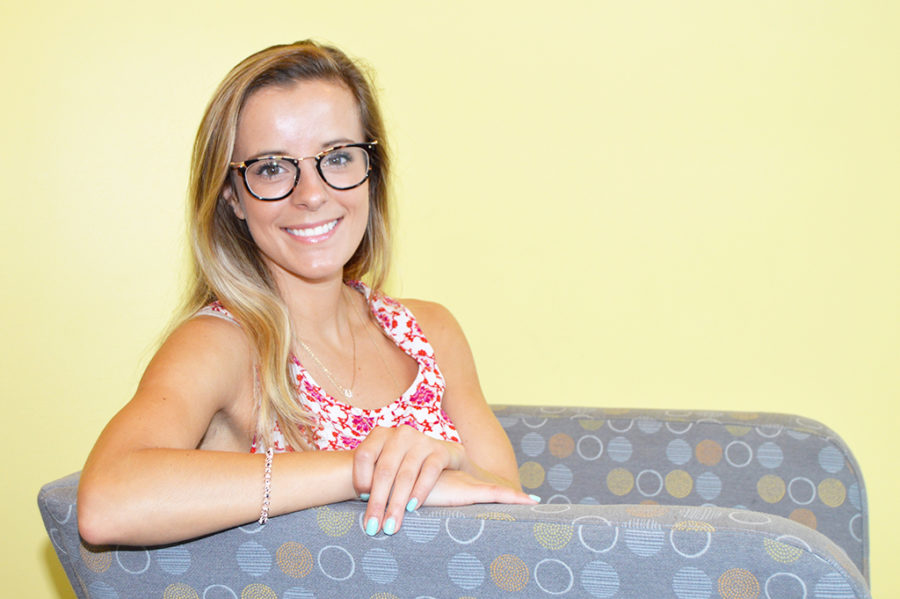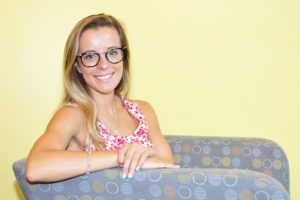 Charlotte provides assistance and support to the Office of Digital Learning through a diverse range of administrative responsibilities. Her role includes managing the Mason Online and Stearns Center websites, acting as a general liaison to students through phone and email communication, providing support for events and special projects, budgeting for the office, and working in collaboration with all staff in the Stearns Center for Teaching and Learning.
Charlotte graduated from the University of South Carolina in May 2018 with a BS in Sport and Entertainment Management. She is currently pursuing her MS in Data Analytics Engineering at George Mason.
Key Strengths: Input, Individualization, Empathy, Developer, Learner
---
Debbie Walker
Office Manager, Stearns Center
As Office Manager, Debbie provides general administrative support to the Stearns Center. Her responsibilities include purchasing, fiscal management, budget systems, budget reconciliation and general office management.
Debbie has more than 34 years of Treasury Management and Finance experience working for Pepco Holdings before retiring in 2016.
Debbie is an equestrian, loves to travel, a dog trainer and loves to spend time with her Rough Collie, Lindsey.
---