Whether a student or faculty member, you probably already know that videos are an essential component in creating a challenging and successful online learning environment. There are various programs available to make recording fun and easy, such as Kaltura and Voki. But for those who are not yet comfortable recording themselves from their computers, George Mason University's Gateway Library has a great solution.
During the Innovations in Teaching and Learning Conference hosted at Mason's Fairfax campus on September 19th, Jason Byrd and R. Todd Stafford of University Libraries introduced a new campus resource – One Button Studio. Located in the Johnson Center (Gateway Library 134-I), the studio hosts professional quality recording equipment that is freely accessible to faculty, staff, and students. Promoted as an effort to 'raise the bar and lower the barriers,' One Button Studio drastically simplifies the production process while resulting in professional quality videos.
"We do all the hard work for you. All you need to know how to do is insert a stick drive and press a button!" says Jason Byrd, Learning Technologies Librarian. "It can be used without any previous experience, allowing you to focus on your presentation rather than technological skills."
How does One Button Studio work? It's as easy as 1-2-3! Image courtesy of George Mason University Libraries
Professional Quality with Minimal Effort
A Mac-compatible application developed by Penn State, One Button features a single-click button that can be programed for specific actions when pressed. In Gateway Library's One Button Studio, a Mac Mini serves as a kiosk for the studio's recording settings and functions. On an adjacent computer, users can upload presentations and review recorded materials. The studio is also equipped with a projector, two projector screens, a lectern, additional audio recording tools, and a wireless keyboard and mouse for presentations.
"With a preconfigured space dedicated to advanced recording settings, you can create high quality videos without having to know about or adjust lights, cameras, or microphones. You can cut your project timeline in half," explains Byrd. You simply insert a USB drive and load your presentation, push the button to start recording, give your lecture, and push the button to stop recording. Your video will automatically save to your USB drive in a standard format file as well as to the hard drive for temporary recovery purposes. "The idea is that you don't have to interact with anything," elaborates R. Todd Stafford, Assistant to the Distance Education Librarian.
An Active Learning Environment
If lectures are recorded and provided for students to access in Blackboard, then professors are able to reclaim class time and potentially use the entire period to participate in active learning assignments and interact more fully with students. In One Button Studio, faculty can successfully capture entire lectures or even manageable chunks of lectures, which often prove more helpful in ensuring that students engage fully with the content. According to Byrd, "71% of students want more lecture capture. Students want to be able to go back and review that content."
Professors aren't the only users that could benefit from the ease and access of One Button Studio. Students can create a wide range of projects in the studio, from traditional presentations to video reflection pieces, recorded performances for theater or music majors, mock interviews, public speaking practice, promotional or commercial projects, or maybe even model therapy sessions or clinicals. These hands-on learning opportunities also foster academic and professional development and help improve communication and interpersonal skills.
A Personalized Course
For professors who are looking to flip their classrooms or add a little variety or personality, implementing videos can only help. Boyd suggests, "Professors can be obsessive and get rid of those mistakes [in their videos], but mistakes are useful in showing your students that you are a human being and you make mistakes too." If your students see you trying something new, it may encourage them to do the same.
In online courses, videos are crucial in improving a professor's visibility in the course as well as to capture student interest in the content. "This is a great way to personalize online and hybrid courses," says Boyd. "It can be difficult for instructors to provide that personal touch in an online setting. Here, you can come in, record your face on the screen with the content, and provide a little personality."

One Button Studio is intended as a quick and easy solution to your video recording needs. The equipment is already set up and ready to go, drastically simplifying the video production process. Image courtesy of Pennsylvania State University [1].
The Perfect Pair for Beginners
One thing to note about One Button is that you cannot edit the recorded videos while in the studio. However, you can upload them into any video editing software at your disposal. For example, Kaltura is a video recording and management tool that is free for all Mason faculty, staff, and students and is already integrated directly into Blackboard. The pair is perfect for beginners, allowing you to practice with recording and editing until you are comfortable and able to access the full features and benefits of other campus resources.
"There's a bit of a false dichotomy [in comparing Kaltura to One Button Studio]. These videos can be easily uploaded into Kaltura," explains Stafford. "There are advantages to both. With Kaltura, you can capture video right from your desk, while the main advantage of One Button is the quality provided in such a space."
---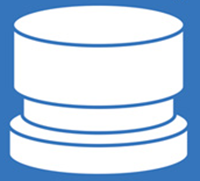 One Button Studio is one of the many resources readily available to students, faculty, and staff through George Mason University Libraries. To learn more about One Button or to schedule a recording session, visit http://library.gmu.edu/onebutton!
[1] Welcome to the One Button Studio. Pennsylvania State University, n.d. Web. 9 Oct 2014. <http://onebutton.psu.edu/>.