It's that time again – registration for Spring 2018 is right around the corner! What will your class schedule look like? For students who work, intern, commute to campus, or have other scheduling conflicts, it can be difficult to fit in all the courses you need in a given semester. This Spring, create a schedule that fits you. With a combination of online and face-to-face courses, you'll be able to reduce your time in the classroom while completing the courses you need on your own schedule.
Plus, there are online courses available for nearly everybody. While offerings for major courses vary by program, every Mason undergraduate student can take advantage of the excellent selection of online Mason Core options. With the exception of English 101 and the Oral Communication requirement, all other Mason Cores can be completed online. Built for a broad range of Mason students, these general education courses are perfect for students who want to see if the online environment is right for them.
What better way to complete your degree requirements than on your own time? "The fact that students can get a wide range of classes through distance is a great opportunity," says Dr. Janette Muir, Associate Provost for Undergraduate Education. "It's also a great way for them to plan their summer, perhaps completing some of the requirements they need even while they are at home."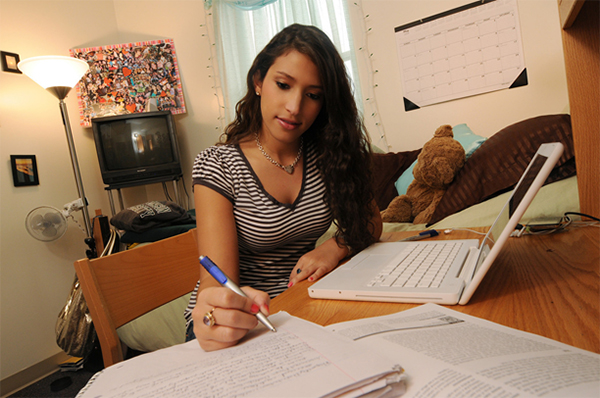 For many students, it can be difficult to work or intern while taking classes full-time. An easy solution? Mix online and face-to-face courses to allow for easier scheduling. Photo courtesy of Mason Creative Services.
A Plethora of Options for Mason Core
Given the rising popularity of online Mason Core options, the Offices of Distance Education, Undergraduate Education, and various academic departments across campus have been working to increase the number of available online sections and incorporate new and dynamic choices each semester. This coming Spring, students can expect to see several returning and new online options. So what Mason Core requirements could you knock out online this Spring? Pretty much all of them…
Written Communication – ENGH 302
Quantitative Reasoning – MATH 106, MATH 108, or STAT 250
Information Technology – GOVT 300 or IT 103
Arts – ARTH 201, DANC 101, FAVS 225, or MUSI 101
Global Understanding – COMM 305, GCH 205, GGS 101, MSOM 305, or RELI 100
Natural Science (Lab) – BIOL 103
Natural Science (Non-Lab) – GGS 102 or NUTR 295
Social & Behavioral Sciences – HEAL 230 or PSYC 231
Western Civilization – HIST 125
"It's great that just about all of our Mason Core categories have the ability to be taken online, which has been one of our goals. We still have a couple of little gaps, but we're getting there," shares Dr. Muir. "Also, there is quite a variety of courses for everybody, like DANC 101."
New Offerings Supported by DE
In fact, a few of the newly online Mason Core courses were supported by the Office of Distance Education (DE) and built in partnership wit the Division of Instructional Technology (DoIT), including PHIL 309: Bioethics with Dr. Derek Boyd and RELI 100: Human Religious Experience with Prof. Susan Bond. If you've already completed all of your Mason Core requirements or are looking to complement your degree, check out the Business Minor. With Dr. Patrick Soleymani's online section of MSOM 301: Managing People and Organizations piloting this Spring, the entire program can now be completed online.
For graduate students, course availability varies by program. A couple of the new course offerings this Spring include MBA 797: Sustainable Business in a Global Environment and EDAT 524: Universal Design for Learning. Additionally, some of Mason's fully online programs will be bringing new courses on board. Dr. Anne-Marie Balzano of the Education Leadership MEd will be piloting EDLE 690, and the Biodefense MS faculty will be introducing BIOD 706, BIOD 725, BIOD 760, and BIOD 790. Also, students enrolled in the Systems Engineering MS can now choose from synchronous or asynchronous online course options!
---
See http://provost.gmu.edu/gened/general-education-requirements/ for a complete list of Mason Core requirements and course options.
For a preview of online courses coming in Spring 2018, check out the Course Listing.