Designed and delivered by a talented and accomplished faculty with years of distance education experience, Mason's online Spanish courses would be well worth your elective credits for a semester or two. Thanks to the collaborative efforts of Drs. Esperanza Román-Mendoza, Monica Mulholland, Alexía Vikis, and Prof. Cristina Hernández Gil de Lamadrid, two intermediate level courses have been fully online since Spring 2012. SPAN 210: Intermediate Spanish is offered every semester, including summer, and SPAN 115: Review of Elementary Spanish is available every spring and fall. This year, Professor Almudena Soto Villalba joined the dynamic team and teaches online sections of 210.
"There are many benefits to developing an online course as a team as it is a very time-consuming and detailed task. Two or three instructors reading the syllabus and the online materials definitely ensures the quality such an endeavor requires," shares the group. "We enjoy working together and are able to produce better work, especially with regard to improving the courses. Overall these courses benefit significantly from our team-planning."
With the popularity of the courses rising each semester, the team is also in the process of adding a few new courses to the online repertoire. Both piloting for the first time this past summer, SPAN 101: Elementary Spanish I and SPAN 102: Elementary Spanish II offer online opportunities for beginners. For advanced students, another online course to keep an eye out for is SPAN 370: Spanish Writing and Stylistics.
A Favorable Teaching and Learning Environment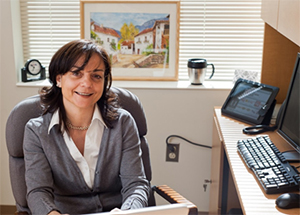 Director of Undergraduate Programs for the Department of Modern and Classical Languages, Dr. Esperanza Román-Mendoza is one of several faculty members dedicated to developing and delivering Mason's online Spanish courses. Photo courtesy of Mason Creative Services.
Perhaps the most noted benefit of an online course is the flexibility that it affords. For Sharon Parillon, who enrolled in Dr. Román-Mendoza's pilot of SPAN 101 and immediately followed with Dr. Vikis' pilot of SPAN 102, the ability to learn Spanish outside of a constrained classroom allows her to pursue academic endeavors despite a demanding schedule. She indicates, "I actually prefer taking online classes rather than face-to-face. I am a full-time worker and sometimes work more than 40 hours, so online classes are more convenient." In addition, courses centered in Blackboard LearnTM are accessible from anywhere with an internet connection. Announcements, assignments, discussion forums – even Kaltura – are all available directly within the course. With Respondus Test Creator, LockDown Browser, and Monitor, instructors can also create and proctor assessments completely online. "If you have good time management skills, Distance Education classes are a great way to make your schedule more flexible. I appreciated the ability to do my classwork whenever and wherever I wanted," says Heather Gonyeau, who completed SPAN 370 online with Dr. Román-Mendoza this past spring.
As the faculty suggests, teaching online also assures that all students have an opportunity to improve their language skills at their own pace. Whereas face-to-face discussions often pivot around the strong voices in a class, the online environment engages all students. "I had interaction equivalent to that of a face-to-face course through online blogs and responses but did not have to endure any of the stage fright experienced when put on the spot in a traditional class setting," shares Patricia Crawford, who has taken both SPAN 115 and 210 online with Dr. Mulholland. "The interactive practices and video blogs were always interesting, helpful, and challenging enough to keep me on my toes."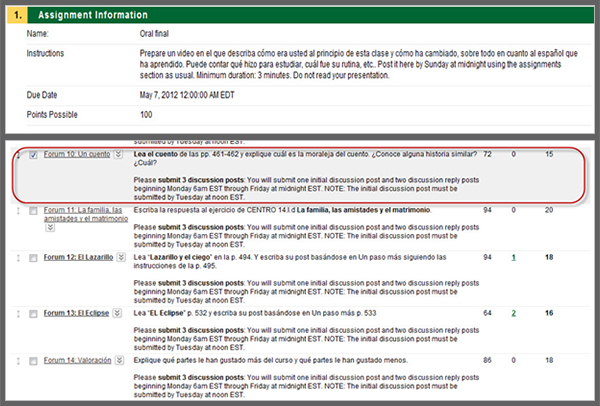 Supporting an active learning environment, assignments in the online sections of SPAN 115 and 210 are provided and often completed entirely in Spanish, including an oral presentation (top) and discussion posts (bottom). Images courtesy of Drs. Esperanza Román-Mendoza, Monica Mulholland, Alexía Vikis, and Prof. Cristina Hernández Gil de Lamadrid.
Tools to Overcome the Virtual Language Barrier
As the ability to communicate in another language hinges upon reading, writing, and speaking skills, the most challenging aspect of learning a foreign language online is often the oral component. While reading and writing are easily facilitated, and perhaps more accommodating, in an online classroom, honing verbal skills requires active communication. "In a face-to-face situation, students use their oral skills constantly as classes are mostly geared towards communication. In the online environment, however, this is more difficult," explains the team. "Learning online is a very difficult endeavor that requires a lot of discipline and motivation from students and teachers."
To meet this challenge, the faculty integrates an oral project allowing students to demonstrate their proficiency with the material and encouraging them to interact with peers. "Kaltura and VoiceThread have proven very useful, and the students appreciate the fact that they can interact with their peers," notes the team. "The classroom-like atmosphere that we strive to create in terms of collaboration is enhanced." Parillon, who admits that the audio exercises were her biggest challenge, enjoyed that the online setting allowed her to replay messages to improve her listening skills. "I have taken several online classes and will continue to take them whenever there is an option," she says. "I love taking my courses online."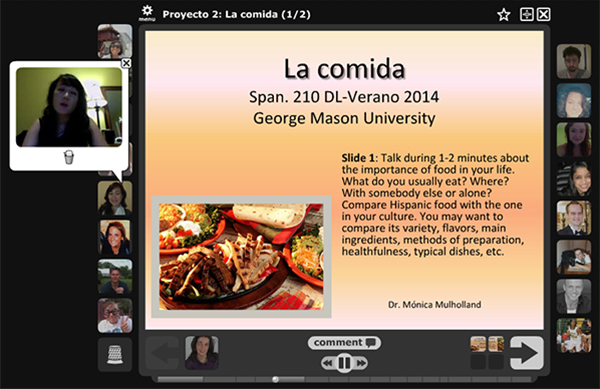 Screenshot of Voice Thread courtesy of Dr. Monica Mulholland.
A Personal Touch to Education
Because working 100% online requires a dedicated effort from all, the student-instructor relationship can either suffer or flourish. Luckily, the online Spanish faculty members at Mason know exactly how to inspire academic interaction. With evaluations based on weekly discussions, homework exercises, written compositions, and oral presentations, students are encouraged to reach out to the instructor as well as peers. "One of the factors in making Spanish work well online is the fact that online students get more time individually from the instructor than traditional classroom students," suggests the team. "We really enjoy the relationship that we develop with the students. You do feel that you know your online students better."
To strengthen the online learning community, Drs. Román-Mendoza, Mulholland, Vikis, and Profs. Hernández Gil de Lamadrid and Soto Villalba remain an active team dedicated to maintaining an impressive set of quality online courses. They even utilize Twitter to engage with students and help build personal learning environments. Brooke Jones, who completed SPAN 115 online with Dr. Román-Mendoza, notes that online classes, while challenging, can be very rewarding. She says, "It is easy to forget that the class exists, and the workload tends to be more abundant. But online classes, like other classes, are what you put into it. If you put in a lot of inspiring energy, then the experience will be fulfilling."
---
Interested in taking an online Spanish course? Check out the course listing to see what's available.