For some students, stepping into the spotlight to participate in interactive discussions or collaborate for group projects may not come easily, and the idea of using video recording software to give an introduction or presentation in an online course can be especially intimidating. Even faculty who are new to teaching online may hesitate at the idea of video lectures. Sure, standing in front of a classroom full of students for a planned lesson or even an ad hoc discussion is a natural element of teaching, but recording lectures for an online setting – not to mention watching yourself give the lecture – is often uncharted territory.
Thankfully, there are several tools available to take some of the pressure off of online students and faculty alike. One example includes the Screen Capture function in Kaltura software, which allows participants to produce high quality, audio-based lectures without having to face the camera. Another creative tool that Mason faculty are starting to utilize is Voki, a free service that lets users create animated, customized avatars that 'speak' recorded messages.
For her online section of EDSE 590,
Dr. Evmenova uses Voki avatars to
introduce herself and course modules.
Video courtesy of Dr. Anya Evmenova.
Customizable Communication
Simple to use yet extremely customizable, Vokis can substitute for recorded videos and add personality to a number of interactive online environments, including course webpages, student blogs or wikis, and discussion feeds. Users can adjust anything from hair color and outfit to accent and language, presenting themselves in life-like, anime, or even cartoon form. Users determine what their Vokis 'say' either by typing text into the text-to-speech function or by recording audio messages with the computer microphone.
For students and faculty who are adjusting to the idea of being on camera, Vokis serve as an excellent alternative. But Voki can do more than simply help create a comfortable interactive setting. While the software encourages students to participate through opportunities to design their own characters, it also allows faculty to engage students through fun, innovative lectures. What better way to capture student interest, provide course content, and prompt meaningful interaction?
Quick Comprehension
Having learned about the tool during a professional development training, Dr. Anna (Anya) Evmenova recognized Voki as a useful tool for her online section of EDSE 590: Special Education Research. One of the last steps in the progression toward licensure for a Master's in Special Education, this required course focuses on the basics of various research methods and their application in special education. Dr. Evmenova creates Voki avatars to guide students through course learning modules, allowing her to capture student interest as well as encourage quick and thorough understanding of the material.
After building a comprehensive 7-10 minute course orientation video in Camtasia to walk students through course requirements and Blackboard navigation, Dr. Evmenova creates brief 1-minute overviews or reminders with Voki. She says, "I could videotape myself, but the idea of using the avatar is more appealing. I really like that you can create a Voki looking very much like yourself with eyes that move following the cursor – it makes for a much more interactive reminder."
Dr. Evmenova also uses Vokis to introduce course modules and point out important details, such as additional reading or specific assignment instructions. "In my experience developing online courses, I noticed that students need quick or brief reminders throughout the course," she shares. "I didn't want something complicated that students may or may not even open, so Voki was perfect for my brief reviews of important components in each module." In fact, her Vokis worked so well that her students no longer needed their help after the first few modules.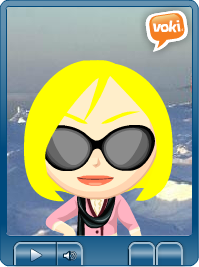 Dr. Lesley Smith's avator for NCLC 491.
Meaningful Interaction
In her online section of NCLC 491: The Senior Capstone Experience, Dr. Lesley Smith took a different approach with Vokis. An upper level synthesis course that prepares students to build and create an evidence-based portfolio, NCLC 491 requires active communication with the professor and continuous collaboration among students. Also, given the oral communication requirement for the course, Dr. Smith recognized Voki as an ideal tool for her online students.
"I knew that many students would be nervous about their fluency in the information and communication technologies required for the delivery online for such presentations, and thus I wanted to find a low-key, low-risk medium for initial speeches," says Dr. Smith. "For short, precise, targeted communications among geographically dispersed individuals who do not initially know each other, Vokis seem to work exceptionally well." Also, the time limit for Vokis encourages students to be precise, vivid, dynamic, and articulate in their speeches and helps Dr. Smith to keep her own feedback succinct and focused on key points.
Dr. Smith was pleasantly surprised to find that her students opted to use Vokis for work and began to send her notifications with them. She explains, "Voki seemed a perfect space for play – students could customize avatars to reflect their own identities, play with context and voice, and generally create an individualized representation of themselves to complement their messages. I really like to encourage a process of guided, risk-free trial and error and change based on reflection on that process." Due to her students' overwhelming appreciation for the tool, Dr. Smith has even integrated Vokis into several of her face-to-face seminars and plans to use the platform again in a public speaking and critical thinking learning community that she will be teaching this fall.
Example of student feedback. Voki courtesy of NCLC 491 student Sam.
A Sense of Community
Whether engaging students in intimidating group work, adding a personal touch to an online setting, or simply looking for an innovative and fun way to capture student interest during lectures, Vokis offer an unexpected yet rewarding experience. Since students in both courses often work in groups – completing research studies or preparing comprehensive portfolios – Dr. Evmenova and Dr. Smith both strive to build a sense of community, which can be challenging in an online setting.
For EDSE 590, the orientation video and reminder Vokis provide instructor presence and add personality to the online course. So students can see how she looks and gain a sense of familiarity, Dr. Evmenova pairs a photo of herself with a Voki on the Meet the Instructor course page. "I also have a Voki welcoming them into the course. It is a very brief introduction talking about how excited I am having students in my online class," she says. Dr. Smith also used Voki software to encourage interaction between teacher and student and between peers, helping to build and reinforce presence and a sense of community.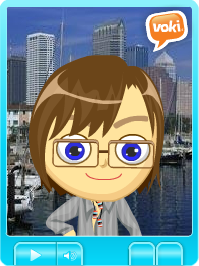 Example of student speech. Image and video courtesy of Kendall Bilbrey.
"I think fun is also important, especially in what is, for many of the students, the unfamiliar environment of an online learning community. So maybe one might think of it as a stealth process to boost a readiness for engagement in an online space, and perhaps help students see some of the potential of the online learning space for future learning," notes Dr. Smith. "After we had met one student, for example, personified in the shape of a basset hound, wearing a French-style beret, we learned something of his sense of humor, his aspirations, and a certain joie de vivre we hadn't before encountered. The standard digital photographs which we all exchanged at the beginning of the semester simply could not achieve this."
---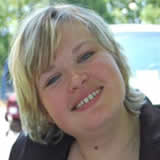 Dr. Anna (Anya) Evmenova is an Assistant Professor in George Mason University's College of Education and Human Development (CEHD) Graduate School of Education (GSE). With a background and expertise in special education, she teaches a wide range of face-to-face and online courses in special education, assistive technology, education instructional technology, and education research.
---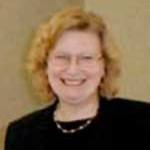 Dr. Lesley Smith is an Associate Professor in George Mason University's College of Humanities and Social Sciences (CHSS) New Century College (NCC). Her interests lie in the critical, cultural, and creative exploration of digital environments, for which she has received several grants from Mason's Technology Across the Curriculum program, and in 2004, she won a Teaching Excellence Award.