When the School of Recreation, Health, and Tourism approached her to help create an online section of TOUR 200: Introduction to Travel and Tourism, Dr. Rebecca Kelley knew that her training and experience with teaching online combined with a high demand course would lead to a great online opportunity for Mason students. As communication, business, and other majors seek TOUR 200 as a useful and informative elective, the online option has served as a great complement to any program while helping to meet high enrollment needs.
"I've been an adjunct at Mason for ten years. We had one section on campus ten years ago. Now we have three exclusively online sections in spring and fall semesters and two in summers," says Dr. Kelley. "TOUR 200 is a great course for anyone at Mason. It's good for students to get familiar with a different industry from the industry perspective, not the tourist perspective, and learn how it impacts the economy, their career path, and their lifestyle."
A New and Intriguing Industry
For the online section of TOUR 200, Dr. Kelley uses recorded lectures to cover course content, weekly discussions or case studies where students are required to read and respond to each other, and exams or projects that serve as checkpoints. Because the course material translates well and is easy to comprehend in an online format, her students do well in the course and rarely have difficulty with the format.
"I try to teach them not only the material, but also how to relate to others, how to work in virtual teams, and how to communicate online," shares Dr. Kelley. "Students are attracted to tourism and events management because it's a quickly evolving and new field with global and economic impacts. Students really get interested in learning more, and distance education allows them to engage in the industry and learn to work as a team."
Student-Centered Assignments
Dr. Kelley also incorporates engaging projects to spark student interest, explaining, "I encourage them to visit two different locations, even online. I tell them to get out in the world. Students are so engulfed in what they're doing, they sometimes miss the world. Get out there and experience what's out there, and they're often surprised by what they find."
The first project is a site visit analysis where students are able to pick any attraction or destination to visit, such as the International Spy Museum or the Holocaust Memorial Museum, and analyze it from a management perspective. For the second assignment, students make an event pitch to a tourism operator. With ideas ranging from Claymation videos and a Meal Ready to Eat program to toilet paper dress contests, Dr. Kelley notes, "They're allowed to be creative as long as they meet the criteria, and they continuously surprise me with what they come up with."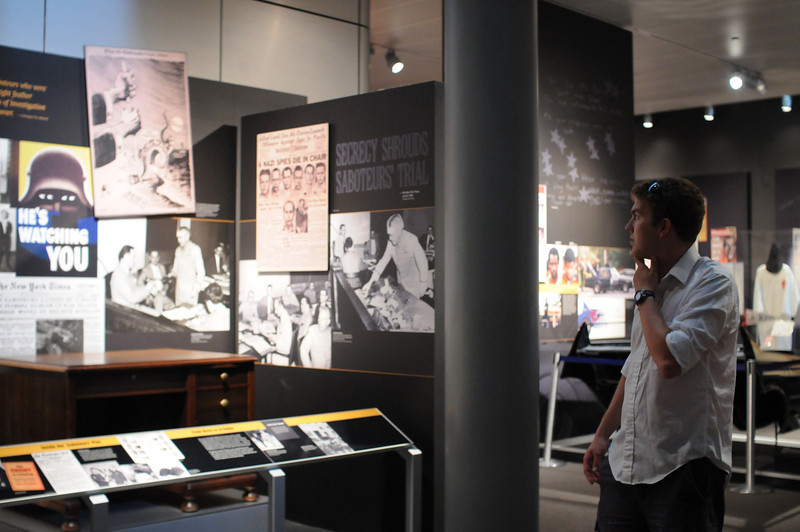 In Dr. Rebecca Kelley's online section of TOUR 200, students conduct a site visit analysis at
any destination or attraction of their choice, such as the Newseum in Washington, D.C.
Photo courtesy of Mason Creative Services.
---
TOUR 200 is offered every semester and is open to all majors. Check for upcoming availability on the online courses page.
For more information on the fully online minor in tourism and events management, see the online minors page.