Golden Globe Award winner Stacy Keach is known as Professor Keach to 19 Mason students who began his Spring 2013 Theater course in January. Professor Keach started teaching this course, THR 490: Professional Perspectives on Performance, using a hybrid delivery method during the Fall 2012 semester. Professor Keach leads lectures and group discussions using "Jabber Video" while working on professional sets around the globe. Students perform "scenes" for him over videoconference and receive real-time feedback or personal emails with his critiques. Best of all, Keach takes footage from each set he works on and sends it straight to his students. This is just one of many cases in which Mason adopts technologies to facilitate the interaction of true professionals with today's students despite limitations of geography or time.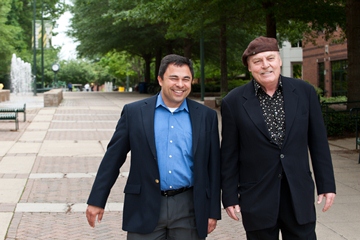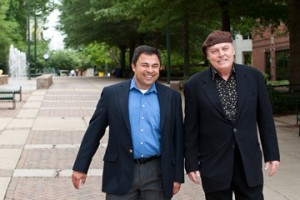 Actor Stacy Keach and Professor Ken Elston walk on the Fairfax campus. Photo courtesy of Creative Services, George Mason University.
Keach, who has had countless roles in popular movies and T.V. shows such as The Bourne Legacy, 30 Rock, and Two and a Half Men, explained that his course "is primarily to prepare kids for auditions." "So," he said, "in that context, a distance course is great!" Keach then explained, "I recently did an audition on my iPhone. I shot it myself and then emailed it to the producers." As professional industries rely more and more on technology-based communication, it is important for students to learn these skills early on. Additionally, with the hybrid course format, all of the scenes performed by students in class are automatically recorded. This makes it easy for students to put together clips of themselves at the end of the semester to send to producers.
When the students aren't in front of the camera during class time, they are virtually behind the scenes wherever Keach is. Last week, he got a face cast and a head cast done for a feature film he is working on called Sin City 2, and he recorded the procedure for the students to watch. This month his students will also learn about the process of voice-overs as Keach records the voice of Skipper, a character in Pixar's upcoming feature called Planes.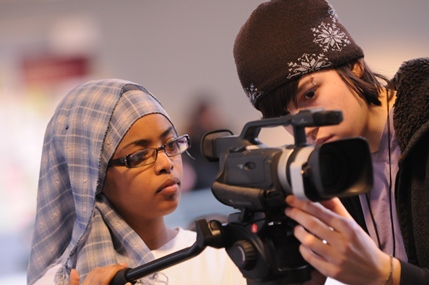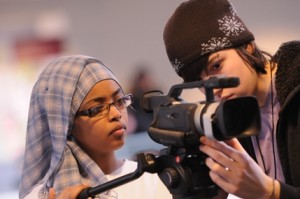 Students in Mason's College of
Visual and Performing Arts. Image courtesy of
GMU Creative Services.
In a meeting last week on campus, Keach shared future goals for the course with the Department of Instructional Technology (DoIT) staff and they immediately provided technology-based solutions to achieve his goals. "Can I [virtually] bring in other actors to speak to the students? Say, for example, I am out in LA and want Robert De Niro to come on. Can we make that happen?" Keach asked. DoIT staff nodded yes. "And is there a way I can have control of the zoom-in and zoom-out, from my computer, of the camera recording my students perform?" DoIT agreed to make it happen. Additionally, the DoIT team committed to creating an archive of video clips that Keach takes from sets so that he can share them with students in semesters to come.
Mason's online and hybrid courses apply innovative teaching theories and cutting edge technology to best serve the needs of students. In some cases, the need may be greater flexibility of time or the elimination of inconvenient commutes to campus. In the Theater department, the students' need was to have a professional perspective on performance.