Mason is dedicated to providing a culture of rich academic knowledge and experiential learning opportunities for all students, and one way to help achieve this is online learning. With hundreds of online sections to choose from each semester, all Mason students can take a combination of online and face-to-face courses to customize their learning experience and create a flexible schedule that fits their needs.
One such student is Anna White, a junior at Mason. After switching majors from dance to tourism and events management, White had some catching up to do for a few major courses. In the interest of time, she decided to see what options were available online. She quickly found that this hybrid academic approach allowed her to do much more than simply catch up.
During Mason's IVth Night event, White and her friend pose with President Ángel Cabrera and Dr. Beth Cabrera. Photo courtesy of Anna White.
"Even taking just one or two online classes greatly opens up my schedule. I can then fill my days with experiential learning in the industry, followed by online learning at night," shares White. "Plus, I can fully engage in a class while still participating in more activities on campus. Online classes allow me to get the best of both worlds."
Skill Building through Challenging Courses
With just one or two online courses mixed into her academic schedule, White has maximized her involvement across campus and focused on earning valuable professional experiences in the events management industry. What is most impressive is that she has accomplished all of this while taking courses full-time.
She has completed a variety of Mason Core and major requirements online, from introduction courses on computing and nutrition to TOUR 190: Wedding Planning and Management and PRLS 460: Sport and Recreation Law. This semester, she is enrolled in an online section of TOUR 340: Sustainable Tourism. Taking online courses has encouraged White to test and build her time management skills, engage fully in classes and coursework, learn to communicate effectively, and find a work-life balance.
"The good experiences that I've had with online courses have included student-to-student interaction, interesting assignments, and professors who are available and responsive," says White. "My favorite online class was [TOUR 230] Introduction to Hospitality Management, because I was able to engage in group discussions, independent work, and field work. I had to work the hardest in this class, but it truly paid off. Online courses are what you make of them."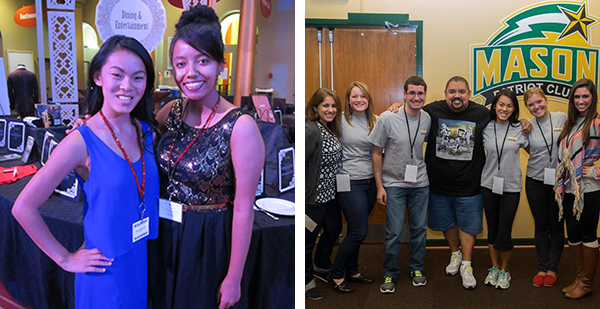 Left: A tourism and events management major, White helped to coordinate a Juvenile Disabilities Research Foundation (JRDF) Gala. Right: White had the opportunity to meet comedian Gabriel Iglesias following his performance at the Patriot Center in October 2014. Photos courtesy of Anna White.
Making the Most of Experiential Opportunities
Since her first year at Mason, White has jumped on every opportunity to develop professionally. The summer after her freshman year, she interned at Jungle Island in Miami, where she planned everything from weddings and galas to corporate events. Currently, White volunteers as Vice President of Events for Mason Ambassadors, coordinating admissions events and planning the annual celebratory banquet. She states, "As an ambassador, you're a member of a group of leaders and a face for everyone to look up to. It's a great experience. Years after giving my first tour, I've had students come back and interview to be ambassadors themselves."
When St. Jude Children's Hospital held an interest meeting to bring Mason Up 'til Dawn to campus, White didn't hesitate to take on the role of Executive Director. She is also an active sister of Zeta Tau Alpha sorority, and she has worked as an event planning intern with Weekends at Mason, as a special events intern with the National Wildlife Federation, and as a senator in Mason's Student Government.
"Experience is everything in my major. Online courses have given me room in my schedule to help plan admissions and fundraising events, coordinate with volunteers, and create budgets. These special experiences that I've chosen to be a part of would not be available if I didn't have a flexible schedule," explains White.
Looking Forward to Endless Possibilities
This semester, White hopes to further her career goals through a part-time job. Starting with guest services, she would like to practice her knowledge from the classroom through direct experience in the hotel industry, greeting guests, booking rooms, and solving routine issues before hopefully moving into event planning. As for her dream job, she is still deciding between a corporate environment, perhaps at an international resort, or a management position for a non-profit organization. By adding online courses to her schedule, White is well on her way to building the knowledge and experience she needs to be a career ready graduate.
But Anna is not simply an online learner. She is a dedicated Mason Patriot, and regardless of the career path she chooses, she recognizes Mason's role in helping her get there. She shares, "I will say Mason has been the best experience ever, and I would never change my decision to apply to Mason. It has given me everything I could possibly want and more, experience, opportunities, and the tools I need to move on to my next step in life."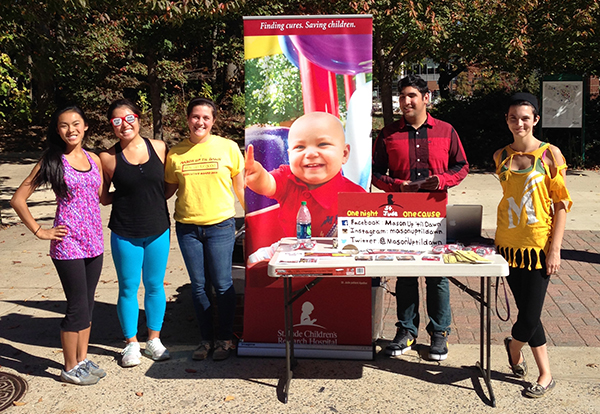 Coordinated by White, Mason up 'til Dawn is a celebration for students all across campus who have contributed to fundraising efforts for St. Jude Children's Hospital. Photo courtesy of Anna White.