As the semester progresses, many offices on campus are finding new ways to support access to a quality education for all Mason students. One such office is the Assistive Technology Initiative (ATI). Part of the Office of Compliance, Diversity, and Ethics, ATI hosts accessibility experts who are trained to support individuals with disabilities and specialized learning styles. In addition to those with specific accessibility needs, the ATI team is also dedicated to providing free services and trainings to all Mason students, faculty, and staff.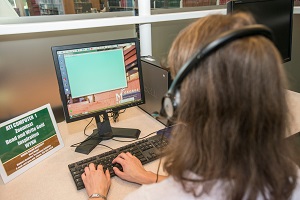 Read & Write Gold is a robust program that benefits a variety of learning styles and is free for Mason users. Photo courtesy of Creative Services.
"Accessibility applies to everyone, not only to those with disabilities," explains Kara Zirkle, ATI's IT Accessibility Coordinator. "To achieve an accessible education for all students, we are growing our focus to recognize and support a variety of different learning styles."
One tool that helps ATI address and achieve this goal is Read & Write Gold. A texthelpTM product, this popular text reading and writing software features a customizable toolbar and includes elements of reading support, writing and editing assistance, study and research skill building, and more.
A Natural Fit for Online Learning
Available for PC and Mac users, Read & Write Gold provides a variety of features that fit the needs of diverse learning styles. Software elements include document scanning and conversion, reading text aloud, highlighting, extracting text into audio formats, citation assistance, and speech-to-text, just to name a few. Some of these key features make the program a natural fit for online education. To start with, the program is already integrated into the Blackboard learning management system (LMS), so any Mason user can log in and download the program from the Blackboard module.
Other useful elements for online learning include Scanning, which allows you to scan print or digital documents directly into Read & Write Gold, as well as the Study Skills function. With the Study Skills Highlighters, for example, users can digitally highlight words or sections of text from any Microsoft Word document, PDF file, or internet article. This is an excellent tool for courses that involve online reading or studying, because these highlighted sections can be pulled into a new document to serve as a study guide, outline, or collection of sources for a research paper. Also, Speech Maker allows the user to select text and create an audio file, which is helpful for online learners who listen to documents on mobile devices.
"Read & Write Gold is a robust program that features something for everyone, and it's especially useful for the online community," shares Stephanie Robbins, ATI's Program Support Specialist. "As long as you have a Mason ID and password, you can benefit from this program for free with no limit, so you can download the program to multiple devices."
The Read & Write Gold toolbar is intuitive and easy to follow, offers a customizable experience, and incorporates familiar elements from software such as Microsoft Word. Image courtesy of ATI.
Ideal for Improved Reading and Writing Skills
While the program is a natural fit for the online learning environment, it is also a valuable tool for any student working to improve reading comprehension and writing skills. Perhaps the most popular function of the software, Text to Speech reads content from Word documents, PDF files, and internet articles aloud. Dual highlighting notes both the current sentence and word being read aloud, allowing the user to follow along with ease. Even the reading voice is customizable.
"Read & Write Gold is a great tool for international students who speak English as a second language. The combination of functions helps to build proficiency in speaking, reading, and writing in English," says Robbins. "Also, the interface is intuitive and easy to follow, pulling familiar toolbar elements from Word and providing a highly customizable experience."
Other useful reading comprehension tools include an enhanced dictionary with word prediction capability, vocabulary assistance with word choice, spelling, grammar, and spellcheck, a pronunciation tutor, and a translator function. The software also provides citation assistance for MLA and APA styles.
Additional Resources
For faculty looking for a convenient way to create lecture videos and transcripts, ATI provides training on how to utilize the Speech to Text function in Read & Write Gold as a starting point. Another helpful tool for this purpose is Dragon NaturallySpeaking, which is a better fit for those who prefer to 'speak off-the-cuff' rather than prepare a detailed transcript ahead of time. This software is available for faculty working with the Instructional Design (ID) team housed in the Division of Instructional Design and Technology (DoIT), though all faculty are eligible for a demo and training through ATI.
So, whether you need assistance with reading comprehension, a more robust tool for studying online, or a quick and easy method of creating course transcripts, Read & Write Gold is a free resource that offers something for everybody. Zirkle notes, "It may seem like it's too good to be true. But in this case, it's not!"
For easy to follow instructions on downloading Read&Write Gold to your computer, see this How-To video.
Link: http://youtu.be/2KX2HTXQ5b4 Video courtesy of ATI.
---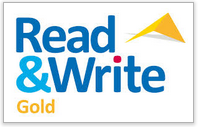 From accessibility testing and informal assessments to captioning and technical support, the Assistive Technology Initiative (ATI) provides many free services and trainings to the Mason community.
For full video tutorials on Read & Write Gold, visit ATI's Video Training Library. Tutorial topics include how to utilize the toolbar and functions such as Study Skills, Speech Maker, Scanning, and PDF Aloud.
For more information or to schedule a software demo or training, contact ati@gmu.edu.