An unparalleled tool for reaching new student populations, online education supports Mason's continued efforts as an innovative and diverse university. Our fully online courses and programs invite domestic and international students outside of the local area to become members of a growing Mason community, inspiring Patriot Pride all around the world.
To ensure a rewarding online experience for himself and his students, Dr. Theodore Hoch, professor of the fully online Applied Behavior Analysis (ABA) Graduate Certificate program, utilizes innovative tools to deliver quality, accessible online courses.
Mirroring Layout and Content
Building all of his courses within an easy-to-navigate Blackboard layout, Hoch organizes content in approachable, modularized sections and delivers relevant information that will engage student interest.
As ABA content often consists of several segments, Hoch's modularized layout and instruction match seamlessly, promoting accessibility and engagement not only in his courses but throughout the entire program.
Dr. Theodore Hoch provides an orientation video for each of his online ABA courses.
Video courtesy of Ted Hoch.
Incorporating Course Objectives
When developing an online course, Hoch starts with the objectives. These are based on the Behavior Analyst Certification Board's (BACB) Task List, which specifies the content one must master to become a Board Certified Behavior Analyst, and are developed to span the requirements found within Bloom's taxonomy, a classification of educational learning objectives.
"I generally have approximately 50 objectives per course, though I compress these into 7-10 more complex and overarching objectives," Hoch explains. "Then I determine how to measure these objectives."
Through an orientation video for each course, Hoch strives to accomplish several tasks at once: introducing course content, communicating course objectives, and demonstrating faculty presence. In addition, he creates a "How to Take This Course" video to ensure that his students understand course expectations and how to access content and resources.
Define Knowledge, Reiterate Comprehension. Through interactive tools and intriguing content, Hoch motivates his students to recognize and interpret learned content. What's more, he supplies an endless flow of additional resources and optional assignments to expand student knowledge even further.
One tool Hoch uses for this objective is the interactive quiz, which he embeds into presentations, lectures, even videos, that students can re-access as often as desired. Hoch suggests, "This is foundational material, and I want my students to master it through unlimited chances to access it." Whether created on smartphones, tablets, or paper, flash-cards are another tool Hoch uses to promote student fluency in basic knowledge and techniques.
Hoch also uses guided, or fill-in-the-blank, notes to focus student attention throughout readings and lectures, and his students have responded with an overwhelming appreciation for the tool. As an engagement incentive, he now accepts completed notes for minimal extra credit points.
Demonstrate Application, Distinguish Analysis. Hoch implements weekly discussion boards and assigns group projects that address technical and philosophical aspects of the industry. While students apply and analyze learned knowledge within their own discussion posts, they must take this a step further and respond to each other in meaningful ways. Blackboard Collaborate allows students to 'break-out' into small groups while Hoch moves from room to room, providing guidance and encouragement. As all group work can be collected into a single word document, these sessions serve as a valuable course resource.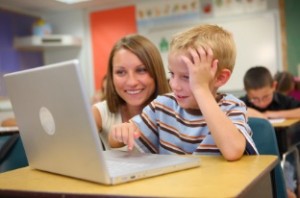 Photo Courtesy of College of Education and Human Development Graduate School of Education.
Integrate Synthesis. Throughout the semester, students are taught to develop instructional programs, design experiments, and measure systems and therapeutic programs in groups. These group work assignments culminate in a final project, in which students are asked to complete these tasks individually, demonstrating their ability to create new models using learned information.
Support Evaluation. Inspiring students to assess the value of learned information, Hoch structures his courses within BACB standards while constantly highlighting opportunities for professional development.
Students must determine whether the course delivers valuable knowledge, so Hoch does not limit them to sources within the course. Rather, he offers optional credit for participation in professional workshops and trainings.
Access to outside resources applies business and industry to the courses while bringing additional knowledge and perspective to class lectures and discussions.
Utilizing Available Resources
A number of online tools and resources are available for innovative delivery and professional growth. Hoch uses a variety of online tools to build his courses.
Hoch uses Blackboard Collaborate for group work projects and guest speakers. The software allows him to host professionals from outside of the area who may offer specialized knowledge and perspectives. He also uses the platform for five synchronous discussions in each course, which he can record and make available to any students who are unable to attend.
When recording videos with Camtasia, Hoch uses sound-proofing equipment to ensure high quality audio. Peer reviewers of the courses have often commenting on this, stating that Hoch's videos are ideal for students new to online education as the quality is high and content engaging. To embed quiz questions into videos, Hoch utilizes the Shareable Content Object Reference Model (SCORM) component, which can immediately record quiz grades in Blackboard's Grade Center.
In addition to supplying numerous optional projects and readings, Hoch encourages his students to utilize available resources to absorb additional knowledge and expand comprehension. Distance education library services, for example, are specifically designed to meet the needs of online students and faculty.
Committing to Continuous Improvement
With clear, encompassing objectives that align perfectly with course modules and assignments, students simply use the tools provided to achieve a rewarding online experience. But as Hoch learns new methods and approaches the more he teaches online, he is committed to making continuous efforts to improve his courses.
To achieve this, Hoch simply engages with his students and responds to their flow and feedback. After having to rearrange one course curriculum to alleviate content density, Hoch seems to have an even clearer idea of his students' abilities and expectations. "In my current 619 course, I've even been able to add three additional lessons to the curriculum," says Hoch. "The students are digesting the materials quickly and coherently."
In fact, due to the increasing number of tangible resources and the ability to reiterate foundational points, he observed that it began to appear as though his online students were doing better than his face-to-face students. Now, his face-to-face students have access to all online course recordings, with both course formats shaping one another in ways he never anticipated.
---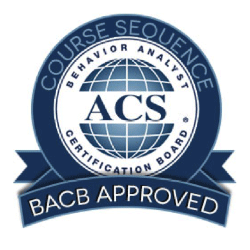 About the Program
Applied Behavior Analysis (ABA) is a discipline devoted to understanding human behavior and improving quality of life through the application of empirically validated, scientific methodology. The field has applications in numerous areas, including business and industry; autism and intellectual disabilities; education at all levels; treatment of psychiatric disorders and family relationships; geriatrics; and general or specialized medicine.
Approved by the Behavior Analyst Certification Board (BACB), Mason's Graduate Certificate program offers an optional supervision or practicum component to satisfy coursework requirements for the BCBA credential. If students do not have an approved Master's degree, they can concurrently enroll in the Masters in Special Education program, leading to a MEd with just four additional courses.
The program is designed to augment the professional training of individuals who design, implement, and monitor behavioral treatment and verbal behavior training programs in schools, private practices, and agencies. Preparing students to become competent practitioners and contributors to the discipline, course content is derived from the BACB Task List and Guidelines for Responsible Conduct.
Interested in taking an ABA course this fall? Dr. Hoch will be teaching EDSE 619 (Principles, Procedures, and Philosophy), EDSE 621 (Empirical Bases), and EDSE 625 (Verbal Behavior), all 100% online! See the course listing for more information.