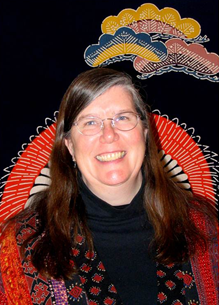 Professor Neia Izen shows determination to discover innovative methods for online instruction.
"The Mason tagline, 'Innovation is Tradition', is not just fluff," Professor of Special Education, Dr. Neia Izen, stated in a conversation with the Office of Distance Education. "It's incredible how much support you can get for developing innovative online learning courses at Mason," she expounded.
While Professor Izen raved about the support Mason provides to pioneering instructors, Office of Distance Education staff marveled at her determination to innovate. Her objective for innovation is highly focused: discover methods to engage students. Her efforts to innovate are exhaustive. She has joined a design partnership with an instructional designer, completed five professional development courses for online instructors through Sloan Consortium (Sloan-C), and participated in two workshops offered by the Division of Instructional Technology (DoIT).
Design Partnership
During the Spring 2012 semester, Professor Izen joined a design partnership with an instructional designer to develop a fully online, asynchronous section of EDSE 501 Introduction to Special Education. Her colleagues, Professor Anya Evemenova and Professor Peggy Weiss also joined the partnership. The three instructors served as subject matter specialists and standard bearers. The instructional designer shared the professors' common goals but fulfilled distinct roles as the learning strategies specialist, the design consultant, and the technology specialist.
The resultant online section of EDSE 501 was an innovative approach to engage a unique set of students with limited time availability. The majority of the students took the course as the first step towards receiving their Virginia State Provisional Licensure in Special Education. Some students only had a few weeks during holiday breaks or right before starting new jobs in which they could take the course. The asynchronous format allowed students to begin and progress through the course material on their own timetable.
Sloan-C Courses
After EDSE 501 online was created and launched, Professor Izen continued to develop herself as an online instructor. With funding from the Office of Distance Education, she participated in five courses by Sloan-C, the leading professional society for e-Education. These courses include Essentials of Online Teaching, YouTube for Learning, Managing Synchronous Tools, Embrace Web 2.0 Tools, and Embrace Asynchronous Tools.
"More than anything, the Sloan-C courses helped to make me more thoughtful about ways to maintain the quality of my course," explained Professor Izen.
Furthermore, Professor Izen found the online community in the Sloan-C courses to be stimulating. By joining the Sloan-C courses, "you suddenly have access to a network of other people with similar goals who can share their solutions," she said.
While taking the Sloan-C courses, Professor Izen developed and began teaching a second online course: EDSE 547 Medical and Developmental Risk Factors for Children with Disabilities. She was able to apply innovative teaching methods to this course that she explored in the Sloan-C program. For example, she integrated synchronous webinars which are very popular with her students.
DoIT Workshops
Although Professor Izen is quickly becoming an expert in online teaching strategies herself, she has continued to take advantage of the expertise of the DoIT instructional design team. She has attended two DoIT faculty workshops: Charting a Course Plan for Online Learning by Katrina Joseph and Facilitating Student Engagement in the Virtual Classroom Using Blackboard Collaborate by Rick Reo.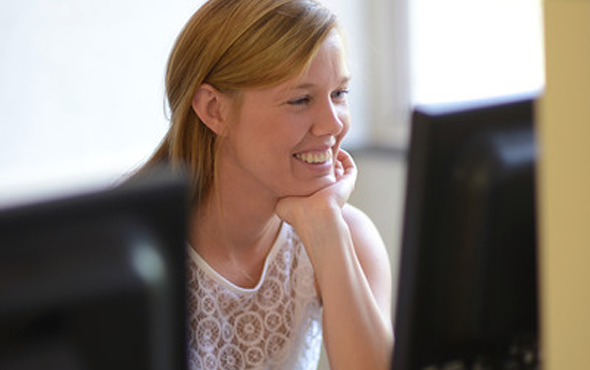 Professor Neia Izen strives to improve the online learning experience and motivate student engagement.
Tradition of Innovation
It is not a huge surprise that Professor Izen is willing to look outside of the box for innovative teaching solutions. The College of Education and Human Development (CEHD) in which she teaches has a tradition of innovative graduate programs that accommodate the needs of local educators. Since the mid-1990s, CEHD's Kellar Institute for Human disAbilities has offered a cohort model that provides educators with licensure and master's degree courses at their workplace. These conveniently located courses are taught by Mason's highly qualified full-time faculty and adjunct faculty.
In addition, this Fall semester, CEHD launched four new fully online Master's and Graduate Certificate programs. The programs boast reduced tuition rates for out-of-state students. Now, for a feasible price and without relocation, students from all over the world can learn from CEHD's nationally prominent scholars in education and human development.
Professor Izen and her colleagues in CEHD are truly following the admonition issued by President Ángel Cabrera in his inaugural speech: "We need to keep the students as our top priority, to remain committed to innovation and inclusion."
---
For more information about resources available to Mason faculty developing online courses, please visit the DE Faculty Services webpage.