Recipe for Effective Learning in a Management Online Course
You have undoubtedly noticed the countless cupcake stores that have sprung up around the nation these past few years – Georgetown Cupcake in D.C., Sprinkles in California, and Crave in Oregon. Students enrolled in the fall semester MSOM 302: Managing Information in the Global Environment online section joined the craze by simulating ownership of their own cupcake store. This simulation contextualized course content and contributed to the first of three critical realms of course interaction – student-to-content interaction, student-to-student interaction, and student-to-teacher interaction.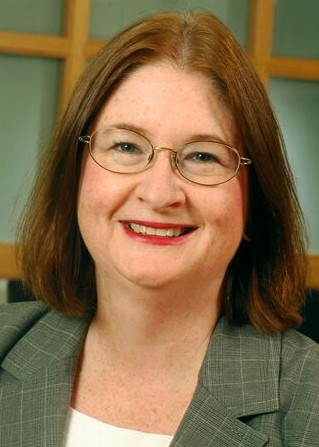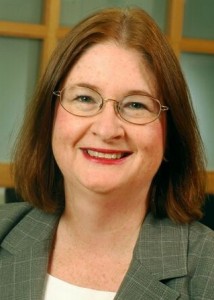 MSOM 302 Professor Melissa Martin. Photo courtesy of
The Mason Gazette.
Student-to-content interaction
"Students have five homework assignments that are wrapped into one business scenario," explained MSOM 302 course professor, Melissa Martin. A new scenario is used each semester; the Spring 2013 class is currently "managing" a family furniture business. Professor Martin says that "it is important to connect new skills to real life. So there are even conversations between the employee and the boss where they are solving a problem with the business."
The course covers a wide range of content related to management of information systems at an introductory level. In addition, it covers the use of Microsoft Excel and Microsoft Access to create reports that support business decision making.
By interacting with this content in the context of a realistic project, MSOM 302 students are able to immediately transfer their knowledge to business settings. As one fall semester student excitedly reported to Professor Martin, "I am so glad we spent more time on Excel because no one at my job knew how to do it and I was able to jump in and be the expert!"
Student-to-student interaction
At the beginning of the semester, students are asked to introduce themselves to the rest of the class.  They tell about their academic and career goals, reasons for taking the course, hobbies, etc.
"In the future, I would like to use my graphic design skills and my knowledge of managing a business to start my own graphic design service," said one class participant. "Ultimately I would like to start an event planning service that specializes in personalized events with graphic design being the focus."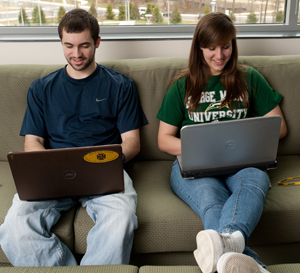 Photo courtesy of Creative Services,
George Mason University.
Students are then encouraged to read and respond to their classmates introductions to help support one another.
Several other features are included in the course structure to ensure meaningful student-to-student interaction. Discussion board groups are arranged so that students in the same major and can easily connect with each other. Additionally, students are allowed to work with a partner on assignments and Blackboard's "student lounge" and "email a classmate" features are activated to facilitate communication among students.
Student-to-teacher interaction
This past month, MSOM 302 was recognized by a panel of faculty reviewers and instructional designers as an "Exemplary Distance Education Course." The panel was particularly impressed by Professor Martin's effort to be available to students whenever there is a need. "The faculty for this course leverages several methods such as Skype, Blackboard Collaborate, virtual hours, and office hours to meet with students and teach complex concepts," one reviewer commented. Occasionally, Professor Martin even video records herself explaining the solution to a student's question and emails the video to them.
Professor Martin plans virtual office hours around the time that assignments are due so that students can pop online and get help from her right when they need it. Since she is a night owl, even if the students are up late working on an assignment, she is still available to help.
"One student had an older version of Excel than what others were using and needed help finding where the features were located on that version," Professor Martin recounted. "Using Collaborate, I was able to pull up her screen on my computer and show her exactly what to do."
The satisfaction of helping students is what drew Professor Martin from her long career at Hewlett Packard to earn her PhD and begin teaching 15 years ago. Professor Martin provides her students with a proven recipe for effective learning – a contextualized project and three realms of interaction. One student this semester raves that it is the best organized online class he has ever taken. So register now for MSOM 302 online and get a taste of management of information systems.
---
MSOM 302 fulfills an elective requirement for the fully online Bachelor of Applied Science (BAS), Technology and Innovation Concentration.