All of this snow has me dreaming of one thing – summer! And with tons of online classes available, you can take courses from home, while traveling, or even if you're staying in Fairfax this summer. There is no better way to stay on track academically while also enjoying the sunshine! Plus, there are online courses available for nearly everybody.
While offerings for major courses vary by program, every Mason undergraduate student can take advantage of the excellent selection of online Mason Core options. With the exception of English 101 and the Oral Communication requirement, all other Mason Cores can be completed entirely online. Built for a broad range of Mason students, these general education courses are perfect for students who want to see if the online environment is right for them.
Registration for Summer 2015 begins Monday, March 9th. What courses will you try online?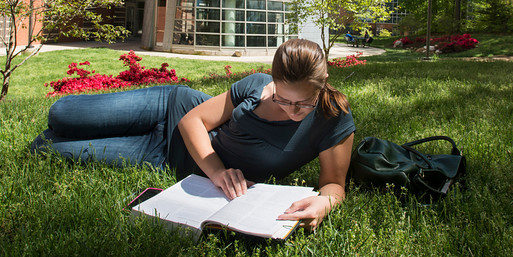 Need to fulfill your Mason Core literature requirement? Curl up with Tolstoy's Anna Karenina and soak in the sunshine while taking FRLN 330 this summer! Photo courtesy of Mason Creative Services.
A Variety of Mason Core Options
Given the rising popularity of online Mason Core options, the Offices of Distance Education, Undergraduate Education, and various academic departments across campus have been working to increase the number of available online sections and incorporate new and dynamic choices each semester. This coming Summer, students can expect to see several returning and new online options. So what Mason Core requirements could you knock out online this Summer? Pretty much all of them…
Written Communication – ENGH 302
Quantitative Reasoning – MATH 106 or MATH 108
Information Technology – GOVT 300 or IT 103 (complete fulfillment); PSYC 372 (partial fulfillment)
Arts – ARTH 201, FAVS 225, GAME 101, or MUSI 101
Global Understanding – COMM 305, GCH 205, PSYC 379, or TOUR 210
Literature – FRLN 330
Natural Science (Lab) – ASTR 111 & 112, ASTR 113 & 114
Natural Science (Non-Lab) – EVPP 201 or NUTR 295
Social & Behavioral Sciences – CONF 101, HEAL 230, or PSYC 100
Every Mason student must take ENGH 301, and there are over twenty sections available this summer. Why not try it online? Or, curl up with Leo Tolstoy's Anna Karenina for Dr. Julie Christensen's five-week FRLN 330 course. This course is only available during the summer, and it's currently the only online option to fulfill the Mason Core Literature requirement. For more on this course, be sure to check out The Perfect Summer Course – FRLN 330.
---
Not sure which Mason Core requirements you have left? Visit the Provost's website for a complete list of requirements and course options.
For a preview of online courses coming in Summer 2015, check out the Course Listing. Also, look for the Office of Distance Education Kiosk in the Johnson Center this Spring:
Tuesday, March 17, 11:00 am – 12:00 pm, Kiosk H
Wednesday, March 18, 11:30 am – 12:30 pm, Kiosk D
Thursday, March 19, 10:30 am – 11:30 pm, Kiosk A