Employee of the Month
On November 4, Lindsey Lowenberg of the Office of Distance Education was formally presented as Mason's November Employee of the Month. The award was presented by President Cabrera in his office on the fifth floor of Merten Hall, with many of Lindsey's co-workers and friends in attendance.
"I have been very fortunate to have such supportive supervisors here at Mason. All have been actively involved in my professional development by incorporating me into their already strong networks, sharing contacts with me, and allowing me to pursue training programs," says Lowenberg. "Also, they trust that I will do a good job, and trust is what means the most."
Her current supervisor, Director for Distance Education Dr. Stephen Nodine, notes Lindsey's reputation for hard work and reliability. He shares, "Lindsey's work this past year has been remarkable beyond anything I have observed in all my years in higher education. Dedication and devotion to work are exemplified in Lindsey's approach every day, and her work can only be described as 'awesome' and 'impactful.'"
Congratulations, Lindsey! For the Mason News article, click here.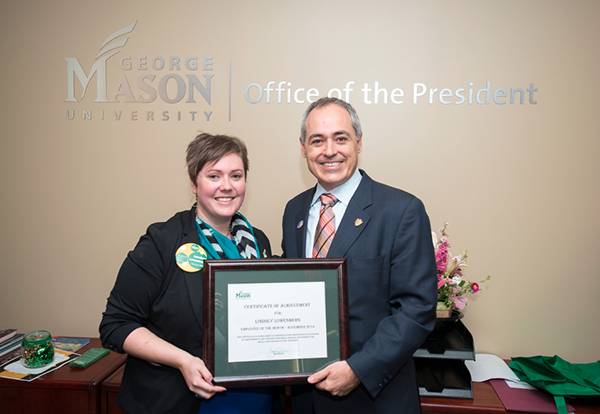 President Cabrera presents Lindsey Lowenberg of the Office of Distance Education with the November 2014
Employee of the Month award. Photo courtesy of Mason Creative Services.
Outstanding Achievement Awards
Part of the annual Human Resources Outstanding Achievement Awards ceremony, the Distance Education (DE) Award is given to a faculty and support staff member whose efforts support quality online course offerings at Mason. The award, which is funded by the Office of Distance Education and includes a check for $500, is presented by the President during the annual awards ceremony. This year's recipients include Dr. Peggy Brouse of the DE Faculty Award and Susan Campbell of the DE Support Staff Award.
Dr. Peggy Brouse is an Associate Professor in the Department of Systems Engineering and Operations Research (SEOR), located in the Volgenau School of Engineering. For 22 years, Dr. Brouse has been the heart of distance education in SEOR, a leader and advocate within Volgenau, and a contributor to Mason's overall distance education community. She taught the very first Volgenau online course, coordinated the online Commonwealth Graduate Education Program, and even developed a distance education business plan for Volgenau. Dr. Brouse continuously sets a high standard and helps us to reach it.
Part of the Instructional Design team at Mason's Division of Instructional Technology, Susan Campbell is a Learning Technology Analyst. During Campbell's 30 years at Mason, many have benefited from her skill, dedication, and perseverance. From film studies to biomolecular modeling to conflict analysis and resolution, she counsels faculty new to teaching online, helps find the best pairing of technology to pedagogy, and advises on how to achieve effective interaction among students. Campbell's work ethic, diligence, and sense of humor have led numerous faculty to successful and exemplary online courses.
Congratulations, Peggy and Susan! For previous DE Award winners, see Norden Receives DE Faculty Award and Nodine Selected for DE Support Award.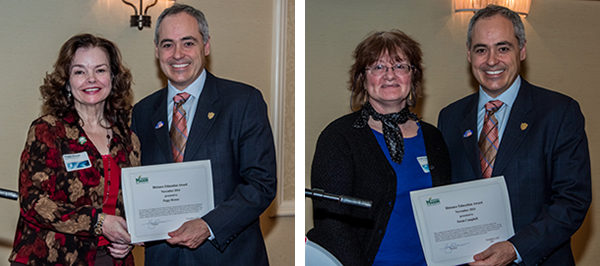 At the 2014 Outstanding Achievement Award ceremony, President Cabrera presents Peggy Brouse (left) and Susan Campbell (right) with the DE Award for Faculty and Support Staff. Photo courtesy of Mason Human Resources and Payroll.