The Office of Distance Education (DE) is pleased to announce the appointment of Director for Distance Education Dr. Stephen Nodine. Moving into the role in April, Dr. Nodine quickly became a valued member and leader of the existing team, immediately taking part in current projects and procedures while discovering new and effective ways to ensure quality distance education at Mason.
"This position allows me to stay involved in a broader way in the transformation that distance education is initiating here at Mason," shares Dr. Nodine. "One area we are excited to be moving forward is offering new opportunities for faculty development in online learning, which we will be rolling out this fall."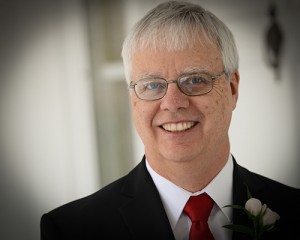 Photo courtesy of Dr. Stephen Nodine.
A Leading Role
Supporting Mason's strategic goals, the Director plays a vital role in shaping an effective approach to providing innovative and accessible education through an online format, managing all processes related to development, implementation, tracking, and evaluation of distance education courses and programs while maintaining a strong working relationship with academic and administrative units.
"Steve is leading the charge to create online pathways for students who cannot or prefer not to attend class at one of our campuses," states Dr. Michelle Marks, Vice Provost for Academic Affairs. "This is directly related to our strategic plan goal of creating accessible pathways and delivery formats to serve the needs of a wide range of students."
Quality Experience
Before joining DE, Dr. Nodine was Manager of the Instructional Design team and Senior Instructional Designer of Mason's Division of Instructional Technology (DoIT). While in this role, he led the team in overseeing the development of new resources and services for faculty teaching hybrid and online courses. He specialized in maintaining the security and integrity of online course testing and assessments, best practices for synchronous online course sessions, and strategies for student collaborative activities.
Prior to Mason, Steve served as faculty training coordinator and distance education specialist in Clemson University's Computing and Information Technology division, advising faculty on how to utilize technology tools effectively in both blended and online courses as well as leading an online workshop ("Developing an Online Course"). Such extensive and valuable experience highlighted Dr. Nodine as an ideal candidate for the Director for Distance Education position. "Steve brings with him a deep knowledge of the instructional design process at Mason as well as a longstanding collaborative working relationship with the [DE] office," explains Dr. Marks. "I expect that Steve will work closely with DoIT to continue to set high quality standards for the creation of new programs and courses."
Looking Ahead
Dr. Nodine's strong working knowledge of online education paired with a rich background in course design has allowed for a smooth transition into the DE office. In fact, these qualities were noted at a university-wide recognition ceremony last October, during which the Office of Distance Education presented him with a DE Staff Award for supporting distance education at Mason.
As online teaching and learning continue to evolve, Dr. Nodine is prepared to meet any challenges that may lay ahead. "Mason is at an inflection point in our growth of distance education and its integration into the fabric of our academic strategies," he states. "Moving from simply building online courses to a model of identifying our Digital Strategy and then building courses, programs, and a supporting infrastructure will be very challenging, but also very gratifying."
---
Dr. Steve Nodine earned his Ph.D., M.S., and B.S. in Forest Management & Forest Resources Management from Clemson University, where he served for 18 years as forest resources extension faculty teaching natural resources finance, management, and economics. He has also taught a variety of economics courses at Southern Wesleyan University and Tri-County Technical College, both located in South Carolina.
Visit http://masononline.gmu.edu/team/ to learn more about our team!
For related articles, see the following: