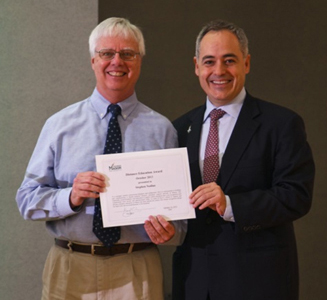 Steve Nodine received the 2013 DE Support Award. Photo courtesy of Creative Services,
George Mason University.
The Office of Distance Education presented the DE Staff Award to Dr. Steve Nodine at the university-wide recognition ceremony held on Wednesday, October 16, 2013. Dr. Nodine is Manager of the Instructional Design Team and Senior Instructional Designer at George Mason University.
"In his role as the Manager of Instructional Design, Dr. Nodine wears many hats when it comes to supporting distance education at the University," explained Joy Taylor, Director of Learning Support Services. Five Mason faculty and staff members supported Steve's nomination for the award. Each one commented on a different role that Dr. Nodine fills with distinction.
First Task at Mason
One staff member praised the results of Dr. Nodine's first undertaking at Mason. Dr. Nodine transferred to George Mason University from Clemson University two years ago and immediately got to work streamlining the instructional design process at Mason. Under his leadership, there was an 80% increase from the Fall 2011 to Fall 2012 in the number of online courses that were developed in a faculty-designer partnership. In these partnerships, a faculty member and his/her designated instructional designer collaboratively selected, customized, and implemented the most effective pedagogies, instructional technologies, and assessment tools to achieve the learning outcomes of the course.
Instructional Design Partnerships
Although busy with leadership responsibilities, Dr. Nodine still regularly works with faculty one-on-one in partnerships. Dr. Stephen White, Associate Dean of the College of Education and Human Development, noted that he has heard many comments from faculty about Dr. Nodine's ability to work collaboratively, resolve issues, and provide thoughtful, constructive feedback.
Assistive Technology Support
Dr. Nodine has also been instrumental in improving access to course resources for students with disabilities. Korey Singleton, the Assistive Technology Initiative (ATI) Manager expressed that, "his hard work over this past year has been vital to the success of accessibility initiatives that are currently in place and those that will be implemented in the coming year." Dr. Nodine has worked closely with Korey on the Equity Office's IT Accessibility Working Group.
Committee Participation
Many other committees have benefitted from Dr. Nodine's participation, including the Distance Education Council and the Taskforce on Textbook Affordability. A staff member that collaborates frequently with Dr. Nodine explained that, "regardless of subject matter, Steve is always prepared to discuss the issues and does an excellent job of asking thoughtful and probing questions to help direct the efforts of the group."
He is an asset to the Mason community at large, and particularly invaluable to the development and implementation of quality online education. For this and many other reasons, the formal recognition of his hard work is highly deserved.
---
Congratulations are also extended to Luanne Norden, recipient of the DE Faculty Award.